Every detail has been considered
We've drawn upon our vast experience with wallboard machinery to design and build a Stretcher that will provide our customers many years of reliable operation, with a minimum of maintenance. Precision crafted, the rugged and heavy duty EDGE Wallboard Machinery Company Felt Stretcher features two actuators which provide smooth and trouble-free travel with the vertical and cross machine forces regulated by the gibs and slide. The stainless steel screw only responds to the machine's directional forces. To assure fast and easy felt straightening, the air operated clutch was designed to provide independent adjustment to both sides of the felt. Our standard Stretcher's travel is from 24 to 72 inches in 12 inch increments, its compact simple design gives you many mounting options. We have designed our Felt Stretcher using manufacturing processes, which enable us to provide the minimum turn-around on delivery.
Standard Features Include:
Two actuators with stainless steel screws and fully enclosed sealed gear units.
Fully enclosed air operated clutch with water wash-down shield.
Hand operated or air motor driven for easy remote adjustment.
Bronze traveling nut and replaceable brass slides prevent corrosion.
Control panel is a NEMA 4X cabinet, which houses the pushbuttons, valve and pressure gauge.
Our simple design provides many mounting options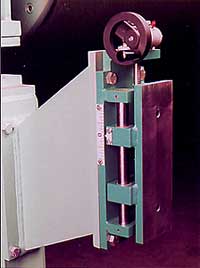 The EDGE Wallboard Machinery Company Hand Guide is designed with a hand operated wheel for easy and accurate adjustment. Manufactured to give smooth and trouble-free service, our rugged, heavy duty hand guide features a compact actuator with 4 inches of linear travel. The actuator has a nickel plated housing and stainless steel screws to prevent corrosion. its sealed gear unit is fully enclosed, which keeps out dirt and moisture. The stainless steel screw with bronze nut and stainless steel slide bars with pre-lubricated bushings assure smooth operation and many years of maintenance free service.