Rolls, Suction & Calender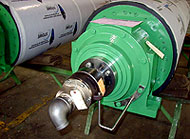 Rolls
Designed and manufactured for every position in the paper machine
Utilizing computer calculations and CAD software rolls are designed to meet the specifications of your paper machine. EDGE base their roll manufacturing using the most up to date engineering design factors and materials for your application. Whether designing a plain felt roll core to fit existing application or a 2500 PLI press roll with bearing assemblies and water cooling joints we are your roll source.
Suction Rolls
Designed to reduce moisture, eliminate crush and generally improve mill productivity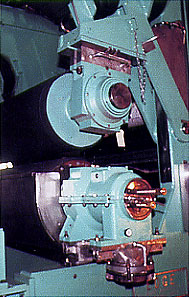 Example of a suction roll which has been installed in a Mid-West press section.
EDGE Wallboard Machinery Company has over 40 years experience manufacturing the highest quality suction rolls. Since building our first roll in 1956 we have designed and built rolls ranging from non-driven fixed opening suction felt rolls to variable width, variable length suction forming rolls. The experience and manufacturing expertise gained over this period assures a modern and efficient roll that will stand the test of time.
Prior to delivery all EDGE Suction Rolls are thoroughly inspected using the latest state-of-the-art computer programs. This not only assures the integrity and strength of the roll, but also that it will provide the highest level performance in the nip with your geometry.
The shell is centrifugally cast out of various bronze and stainless steel alloys. The metallurgy that is right for your specific application depends on the mill's environment. All shells are drilled on a spiral pattern to assure quite operation.
The suction box features stainless steel fabrication, and is counterbalanced to offset the seal arrangement and support the box during removal.
The stainless steel trunnion features a bolt-on design and is sized to provide the optimum velocity while reducing noise and preventing premature separation.
The forged steel heads are epoxy painted to prevent corrosion.
A box adjustment of 360° rotation is provided by a full worm gear and worm.
There is a three bearing design with the rear internal bearing featuring an inner ring rotation. The entire rear internal bearing assembly is replaceable.
Deckle adjustment is made from the front of the roll utilizing a dual shaft arrangement.



Front external bearing arrangement
featuring the worm gear with 360° rotation.

Suction boxes are fabricated in stainless steel
to assure corrosion resistance and extended life.
Calender Rolls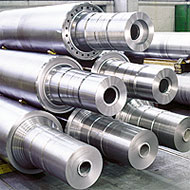 In the calendering process, precision rolls are used in order to guarantee that the final product has optimum properties. The rolls used for these purposes must meet extremely high standards. Calender rolls of maximum precision with respect to geometry, runout and surface finish are supplied for use in your continuous duty application.
Breitenbach rolls are manufactured to comply exactly with customers' specifications. They are designed and produced in close cooperation with the end user. Structural and thermal stresses are controlled by roll design and manufacturing experience.
Rolls are fully inspected. Each manufacturing step is documented, because complete quality assurance is a matter of course. Research and development are considered as means of constant improvement of materials, processes and service.
Breitenbach has their own foundry and is able
to offer rolls made from various materials:
Chilled cast iron (single poured)
Chilled cast iron with nodular cast iron core (compound casting)
Grey cast iron
High chrome-alloy special cast iron
Breitenbach rolls are manufactured using modern CNC machines at all manufacturing stages, maximum precision is guaranteed with respect to cylindricity, roundness, concentricity and surface quality. Besides cylindrical barrel grinding all types of crowns, as well as special roll profiles, are possible. Rolls can be furnished with a matt, engraved or corrugated finish.
Using oil or water heating systems, roll grinding temperatures of up to 300 °C can be achieved. This ensures maximum precision for the roll when it is heated up to operation temperature. Breitenbach's expertise, which is the result of continuous research and development in the field of superfinishing, even allows us to produce rolls with a flawless mirror finish.