Press Section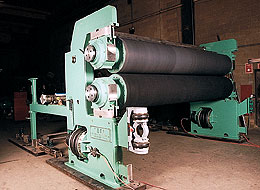 Designed to meet today's needs and
your development goals of tomorrow
EDGE Wallboard Machinery Company designs and builds presses to be installed as single units or complete sections without major modification to your existing equipment.
Working closely with your mill engineers and machine operators, our experienced engineering staff will help you analyze your existing pressing equipment to determine its efficiency. Once your specific needs are established, our skilled engineers, with many years experience in press and forming design, will formulate a plan of action to cost-effectively achieve the needed improvements. Special consideration is given to your future product and modernization plans to assure that the compatible equipment added today will meet your long range goals.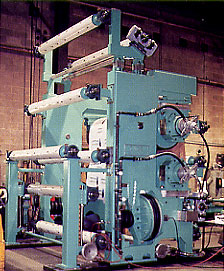 Designed for optimum performance
At EDGE Wallboard Machinery Company we use the latest computer aided engineering to assure that the most efficient designs and materials are utilized. Our presses are designed for optimum performance on all grades of paper and board using computerized technology for sheet de watering and nip dynamics. Felt cleaning and auxiliary equipment may be new or used, giving you total flexibility.
Very competitive prices and on-time delivery
From straight through presses to multi-nip combination presses using suction, blind drilled or grooved rolls, EDGE has the technology and the experience to provide the most efficient press sections. Whatever your needs of the size of your projected budget, we will work with you to give you the most value and the best possible installation. Each press is preassembled for inspection and testing prior to delivery to assure that it meets our client's specifications, as well as, our high standard of quality. This also reduces installation time and cost.